[Download Nigeria Music ] Ocadon Gee – Mono Mono : @ocadongee @koserenaija
https://youtu.be/H3MH_mUnuqo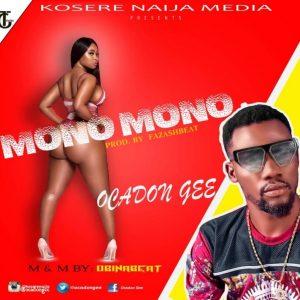 Super talented singer, blogger and KosereNaija boss ; "Ocadon Gee" has stolen the music stage again on his birthday "25th November" with another banger titled "Mono Mono"
 The multi talented act who has over the years perfected his craft of music making and also gained love from lovers of good music to build his dedicated fan base with his previously released Highlife single titled "Kiss E mo ".
Mono Mono is been produced by "Fazashbeat at Play_the_music_studio" " , mixed and mastered by "Obina Beat at ClassicSound studio". Mono Mono in no doubt " a wonderful song to get addicted to, and put on auto-replay . 
Follow Ocadon Gee on social media;  
Facebook : Ocadon Gee 
Instagram; @ocadon_gee
Twitter; @ocadongee
Kindly scroll down after our French translations to  hit the download link below to download listen and enjoy 
               VERSION FRANÇAISE
Super chanteur, blogueur et patron de KosereNaija; "Ocadon Gee" a de nouveau volé la scène musicale le 25 novembre, à l'occasion de son anniversaire, avec un autre titre intitulé "Mono Mono".
 Le multi talent talentueux qui au fil des ans a perfectionné son art de faire de la musique et a également gagné l'amour des amateurs de bonne musique pour construire sa base de fans dédiée avec son single Highlife précédemment publié intitulé "Kiss e mo".
Mono Mono a été produit par "Fazashbeat at Play_the_music_studio" ", mixé et masterisé par" Obina Beat au studio ClassicSound ". Mono Mono ne fait aucun doute" une chanson merveilleuse pour devenir accro à, et mettre en auto-replay.
Suivez Ocadon Gee sur les médias sociaux;
Facebook: Ocadon Gee
Instagram; @ocadon_gee