Commotion In APC, As The Mighty Jagaban, Bola Tinubu, Dumps President Buhari Ahead Of 2019 Elections || @koserenaija || Commotion à APC, quand le plus puissant , Bola Tinubu, laise tomber le président Buhari avant les élections de 2019
It is tensed times in the ruling All Progressives Congress (APC) as Chief Bola Ahmed Tinubu, the National Leader of the party has reportedly rejected a request by President Muhammadu Buhari for him to lead his presidential campaign across the country.
The denial by Tinubu, popularly referred to as Jagaban, was so he could focus on the South-West region. Despite the refusal to lead the campaign though, the former Lagos State Governor is still fully committed to the re-election bid of President Buhari.
It was recently reported that the APC chieftain had been dumped by the party because President Buhari referred to himself as the National Leader of the party – a designation which was reserved for Chief Bola Tinubu.
Oluremi Tinubu, his wife and Senator representing Lagos Central in the Senate, admitted in an interview that the party had disposed her husband even though he helped them in winning the elections in 2015.
"He was campaigning, I did too. We were running three campaigns in my house. And for him to be trashed like that? But I saw somebody who has love for this country", she had said.
A source, who claimed anonymity, revealed that Tinubu rejected the President's request so that he could secure his base in the South-West.
In his words, "Tinubu has politely rejected the request to lead President Muhammadu Buhari's campaign for the 2019 elections. Rather he has chosen to focus his attention more on the South-West. We do not really know the reason for this, but we have feelers that he seems unsure of what the fate of APC may be in the Presidential election, and as such wants to secure his base in the South-West, first. I also heard that he wants to concentrate his efforts on assisting his Candidates. In Ogun, Governor Amosun has withdrawn support for Dapo Abiodun, who is Tinubu's loyalist. 
He will also be actively involved in trying to retain Lagos for APC, especially given the fact that Babajide Sanwo-Olu, the party's Candidate, is contesting against a Jimi Agbaje, who is an experienced Politician."
Will this affect the chances of the APC in the 2019 elections? Let us know in the comments.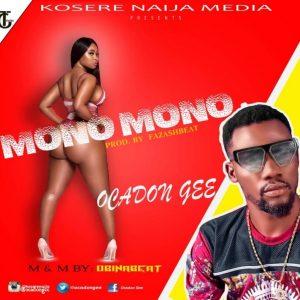 Download Music : Ocadon Gee –"Mono Mono" mp3 ( Télécharger la musique mp3)
See our French translations below 
               VERSION FRANÇAISE
C'est le temps du Congrès All Progressives (APC) au pouvoir, le chef national du parti, Bola Ahmed Tinubu, aurait rejeté la demande du président Muhammadu Buhari de diriger sa campagne présidentielle à travers le pays.
Le déni de Tinubu, plus connu sous le nom de Jagaban, visait à se concentrer sur la région du sud-ouest. Malgré le refus de mener la campagne, l'ancien gouverneur de l'État de Lagos est toujours pleinement attaché à la candidature du président Buhari à la réélection.
Il a été récemment rapporté que le chef du parti APC avait été largué par le parti parce que le président Buhari se désignait comme le chef national du parti – une désignation réservée au chef Bola Tinubu.
Oluremi Tinubu, son épouse et sénateur représentant le Lagos Central au Sénat, a admis dans une interview que le parti avait disposé de son mari alors qu'il les avait aidés à remporter les élections de 2015.
«Il faisait campagne, moi aussi. Nous menions trois campagnes dans ma maison. Et pour qu'il soit détruit comme ça? Mais j'ai vu quelqu'un qui aime ce pays », avait-elle déclaré.
Une source, qui a revendiqué l'anonymat, a révélé que Tinubu avait rejeté la demande du président afin qu'il puisse sécuriser sa base dans le Sud-Ouest.
Dans ses mots, «Tinubu a poliment rejeté la demande de diriger la campagne du président Muhammadu Buhari pour les élections de 2019. Il a plutôt choisi de se concentrer davantage sur le sud-ouest. Nous n'en connaissons pas vraiment la raison, mais nous avons des raisons de penser qu'il ne semble pas être certain du sort que pourrait avoir APC lors de l'élection présidentielle et qu'il souhaite, en premier lieu, sécuriser sa base dans le Sud-Ouest. J'ai aussi entendu dire qu'il souhaitait concentrer ses efforts sur l'assistance à ses candidats. À Ogun, le gouverneur Amosun a retiré son soutien à Dapo Abiodun, le loyaliste de Tinubu.
Il sera également activement impliqué dans les tentatives de rétention de Lagos pour APC, notamment du fait que Babajide Sanwo-Olu, la candidate du parti, se bat contre un Jimi Agbaje, un politicien expérimenté. "
Cela affectera-t-il les chances de l'APC aux élections de 2019? Faites le nous savoir dans les commentaires.
Photos de l'épouse de Tinubu, le sénateur Oluremi Tinubu ci-dessous 
[ Photos of Tinubu's wife , Senator Oluremi Tinubu below ]
Posted by :Onyekwelu Charles 
Publié par :Onyekwelu Charles