[ UEFA SUPER CUP ] Mané doubles as Liverpool beat Chelsea on penalties 2-2 ( 5-4) – KOSERENAIJA – ( Football) Mané double alors que Liverpool bat Chelsea aux tirs au but 2-2 (5-4)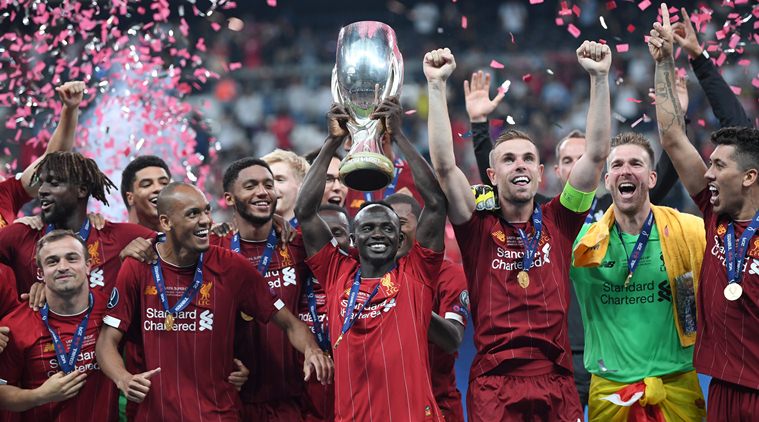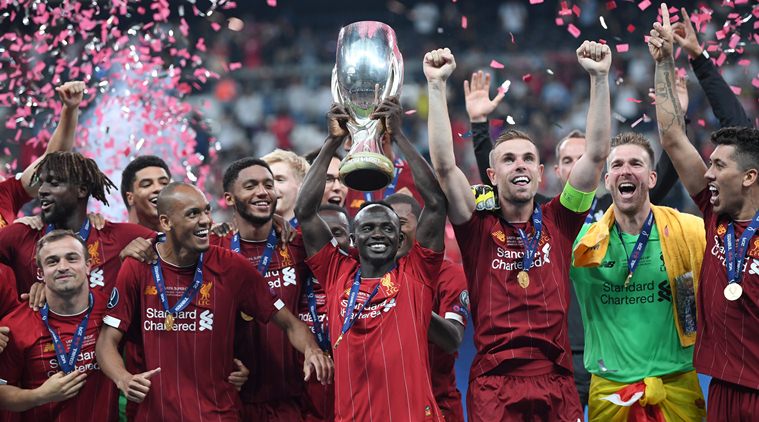 Liverpool defeated Premier League rivals Chelsea in Istanbul to win the UEFA Super Cup for a fourth time in history following a penalty shoot-out .
The Reds came from behind and took the lead in extra time, and eventually needed spot kicks to prevail.
Liverpool's goalkeeper Adrián, playing due to an Alisson Becker's injury, and was the unlikely hero of the night.
If Kepa Arrizabalaga's stunning double save from Mohamed Salah and Virgil van Dijk then helped take the game to extra time, it was not long into the additional 30 minutes – and just seconds into Thursday local time in Istanbul – that Mané and Firmino combined again to lethal effect. This time it was a Firmino cutback and a thumping first-time Mané finish into the roof of the net.
Less emphatic, but no less effective, was Jorginho's spot kick six minutes later. That penalty was awarded after Adrián was adjudged to have felled Tammy Abraham, who was later denied by the Liverpool keeper in the shoot-out to hand the trophy to Jürgen Klopp's charges
Man of the Match: Sadio Mané (Liverpool)
Two goals for Liverpool's offensive forward, who already looks to have carried his great form of last season into this campaign. If the first was evidence of his predatory prowess, the second showed he also has a stunner in his armoury.
NOTE! 
1 : Mané is the first player from Senegal to score in a Super Cup match.
2 : This is just the second Super Cup to go to penalties – the other, in 2013, also involved Chelsea, again after a 2-2 draw. They lost 5-4 to Bayern in the shoot-out.
3 : This was Lampard's third Super Cup. The previous two came as a player with Chelsea; he was captain for the defeats in 2012 and 2013.
4 : Liverpool have won the Super Cup on four occasions, taking them level with Real Madrid in third on the all-time honours board. Only AC Milan and Barcelona have won more, with five.
7 : Mané is the seventh player to score twice in a Super Cup. The others are: Mário Jardel (2000), Djibril Cissé (2005), Radamel Falcao (2012 – hat-trick), Cristiano Ronaldo (2014), Lionel Messi (2015) and Diego Costa (2018).
8 : This is the eighth one-off Super Cup match to have gone to extra time – all eight have seen goals in extra time.
12 : Giroud has 12 goals in his last 13 UEFA club competition appearances.
Check out our French translations below 
KOSERENAIJA FRANCAISE 
Liverpool a battu ses rivaux de Premier League Chelsea à Istanbul pour remporter la Super Coupe de l'UEFA pour la quatrième fois de son histoire après une séance de tirs au but.
Les Reds sont venus de l'arrière et ont pris l'avantage dans le temps supplémentaire, et ont finalement eu besoin de coups de pied directs pour s'imposer.
Le gardien de Liverpool, Adrián, qui jouait à cause d'une blessure d'Alisson Becker, était le héros improbable de la soirée.
Si les doublés de Kepa Arrizabalaga face à Mohamed Salah et Virgil van Dijk ont ​​contribué à prolonger le match, les 30 minutes additionnelles – et à peine quelques secondes le jeudi à l'heure locale d'Istanbul – ont été combinées à nouveau par Mané et Firmino. effet. Cette fois, c'était une réduction de Firmino et une première victoire sensationnelle de Mané sur le toit du filet.
Moins énergique, mais non moins efficace, le tir de Jorginho six minutes plus tard. Cette pénalité a été infligée après qu'il ait été décidé qu'Adrián avait éliminé Tammy Abraham, à qui le gardien de Liverpool avait ensuite refusé lors de la fusillade de remettre le trophée aux accusations de Jürgen Klopp.
L'Homme du Match: Sadio Mané (Liverpool)
Deux buts pour l'attaquant offensif de Liverpool, qui semble déjà avoir porté sa belle forme de la saison dernière dans cette campagne. Si le premier était la preuve de ses prouesses prédatrices, le second montrait qu'il avait aussi un étourdissant dans son arsenal.
REMARQUE!
1: Mané est le premier joueur sénégalais à avoir marqué lors d'un match de Super Cup.
2: Il ne s'agit que de la deuxième Super Coupe du monde à être punie. L'autre, en 2013, concernait également Chelsea, après un match nul 2-2. Ils ont perdu 5-4 contre le Bayern lors de la fusillade.
3: C'était la troisième Super Coupe de Lampard. Les deux précédents sont venus jouer avec Chelsea; il était capitaine des défaites de 2012 et 2013.
4: Liverpool a remporté la Super Cup à quatre reprises, les plaçant à égalité avec le Real Madrid en troisième position du tableau d'honneur de tous les temps. Seuls l'AC Milan et Barcelone ont remporté plus de victoires, avec cinq.
7: Mané est le septième joueur à marquer deux fois en Super Cup. Les autres sont: Mário Jardel (2000), Djibril Cissé (2005), Radamel Falcao (2012 – triplé), Cristiano Ronaldo (2014), Lionel Messi (2015) et Diego Costa (2018).
8: Il s'agit du huitième match de la Super Coupe à avoir été prolongé. Les huit joueurs ont marqué des buts en prolongation.
12: Giroud a inscrit 12 buts lors de ses 13 dernières apparitions en compétition de clubs de l'UEFA.
Posted By :Onyekwelu Charles. 
Publié par :Onyekwelu Charles