[ Nigeria Music ] Tekno – " Better " ( Hope For Africa) : Mp3 KosereNaija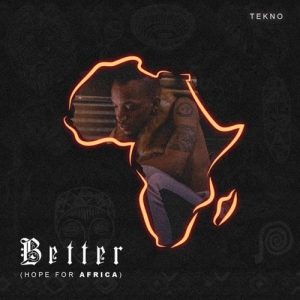 Nigeria's most talented super star; Tekno make a surprising return with another single titled "Better" (Hope for Africa) after a successful release of his previous single titled; " Agege " with Zlatan which is still on trending and buzzing on the street, 
Cartel boss, Tekno shows no sign of relent as he dishes out another banging song that is even more stronger in content.
 Better ; a song that prays for a Better Standard of Living and Growth of Africa.
Tekno calls out our leader to action , tells them to focus on the major social needs (Food, Light, Good Roads, Security, Health Care, Education, Value for Money…) and Prays things to get better. I bet if you loved ' Rara ', then this is another record that will make you applaud Tekno's talent.
ALSO CLICK & DOWNLOAD THIS HOT BANGER : Mono Mono by Ocadon Gee
Kindly scroll down after our French translations to download 
KOSERENAIJA FRANCAISE
La super star la plus talentueux du Nigeria; Tekno fait un retour surprenant avec un autre single intitulé "Better" – (Hope For Africa) (Espoir pour l'Afrique) après la sortie réussie de son précédent single intitulé; "Agege" avec Zlatan qui est toujours à la mode et qui bourdonne dans la rue,
Chef du cartel, Tekno ne montre aucun signe de repli alors qu'il publie une autre chanson entraînante dont le contenu est encore plus fort.
 Better  ; une chanson qui prie pour un meilleur niveau de vie et la croissance de l'Afrique.
Tekno appelle notre dirigeant à l'action, lui dit de se concentrer sur les principaux besoins sociaux (nourriture, routes légères, routes en bon état, sécurité, soins de santé, éducation, rapport qualité-prix…) et prie pour que les choses s'améliorent. Je parie que si vous avez aimé "Rara", c'est un autre disque qui vous fera applaudir le talent de Tekno.
Télécharger le mp3 ci-dessous, profiter et partager
Download mp3 below, enjoy and share
 DOWNLOAD AUDIO MP3 HERE (Télécharger la Musique ici)
ADVERTS (PUBLICITÉ)
–––––––––––––––––––-––––—
☎ Call / Whatsapp +2348165786785 / +22547759672 for your best music promotions and business adverts on koserenaija.com @koserenaija. You can also scroll down the bottom to follow us on social medi.
☎  Appelez / Whatsapp +2348165786785 / +22547759672 pour vos meilleures promotions musicales et annonces commerciales sur koserenaija.com @koserenaija. Vous pouvez également faire défiler vers le bas pour nous suivre sur les médias sociaux
Posted By :Onyekwelu Charles
Publié par :Onyekwelu Charles