[ Nigeria Music ] Bantis – " Gbesumomi " : Mp3 KosereNaija
CLICK HERE TO JOIN US ON WHATSAPP ( CLIQUEZ ICI POUR NOUS REJOINDRE SUR WHATSAPP )
BANTIS has stolen the music stage again with another hot single titled " GBESUMOMI "
Naija multi talented producer and Afro Pop Singer; Bantis serves us with a new tune after a successful release of his popular single : "WATA WATA " featuring DRE SAN and also produced by same Dre San . 
Bantis at this time took the credit of production as he personally produced GBESUMOMI.
CLICK HERE TO ALSO DOWNLOAD THIS HOT MUSIC Titled : Mono Mono By Ocadon Gee
Kindly scroll down after our french translation to download 
KOSERENAIJA FRANCAISE
BANTIS a de nouveau volé la scène musicale avec un autre single intitulé "GBESUMOMI"
 Producteur aux multiples talents et chanteur afro-pop de Naija ; Bantis nous sert une nouvelle mélodie après la sortie réussie de son populaire single: "WATA WATA" en collaboration avec DRE SAN et également produit par le même Dre San.
 Bantis à cette époque prenait le crédit de la production puisqu'il produisait personnellement GBESUMOMI. 
Listen 
 Téléchargez ci-dessous et profitez
Download below and enjoy.
DOWNLOAD AUDIO MP3 HERE ON KOSERENAIJA (Télécharger la Musique ici)
For iPhone Users  Download below  
Pour les utilisateurs d'iPhone, lien ci-dessous
DOWNLOAD MP3: BANTIS – GBESUMOMI ON AUDIOMACK
ADVERTS (PUBLICITÉ)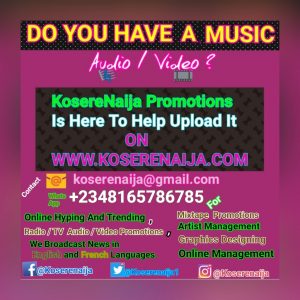 –––––––––––––––––––-––––—
Call / Whatsapp +2348165786785 / +22547759672 for your best music promotions and business adverts on koserenaija.com @koserenaija. You can also scroll down the bottom to follow us on social medi.
Appelez / Whatsapp +2348165786785 / +22547759672 pour vos meilleures promotions musicales et annonces commerciales sur koserenaija.com @koserenaija. Vous pouvez également faire défiler vers le bas pour nous suivre sur les médias sociaux.
Posted By :Onyekwelu Charles
Publié par :Onyekwelu Charles