[ Nigeria Music ] Keene Roti – "Ohema " (Prod. By Mixtadimz) Mp3
CLICK HERE TO JOIN US ON WHATSAPP ( CLIQUEZ ICI POUR NOUS REJOINDRE SUR WHATSAPP )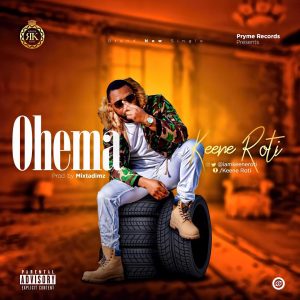 Among many we always picking the best, so when we mentioned many names in Nigeria music industry, there's one strong name that you can never skip, always at the top most time. So we go by mentioning this name again because he's here to give it to his fans as he normally do… "Keene Roti" is here with another wicked jams titled: "OHEMA".
As you all know Keene Roti always strong and deliver the best for his fans all over the world.
OHEMA is a best jam that can never be compare with any song, you all knew as he normally do it right from the time of "Gbese" to "For You" and now it's another total mad and wicked banger "OHEMA" you can never regret you download it.
Keene Roti is an Afro-Pop Artist, and he has been given it to us baddest and wicked street bangers back to back. I believe you will still love these again… OHEMA Produced by Mixtadimz.
You can follow Keene Roti: @iamkeeneroti .
Kindly scroll down after our french translation to download 
KOSERENAIJA FRANCAISE
Parmi beaucoup d'entre nous, nous sélectionnons toujours les meilleurs. Ainsi, lorsque nous mentionnons de nombreux noms dans l'industrie de la musique au Nigéria, il existe un nom puissant que vous ne pouvez jamais ignorer, toujours dans les meilleurs délais. Nous allons donc mentionner à nouveau ce nom car il est ici pour le donner à ses fans comme il le fait habituellement …  "Keene Roti "  est ici avec un autre film intitulé "OHEMA".
 Comme vous le savez tous, Keene Roti est toujours forte et offre le meilleur à ses fans du monde entier.
 OHEMA est une meilleure confiture qui ne puisse jamais être comparée à une chanson, vous le saviez tous, comme il le faisait normalement dès l'époque de «Gbese» à «For You» et maintenant, c'est un autre total bang furieux et méchant «OHEMA» que vous ne pourrez jamais regretter de le télécharger.
 Keene Roti est un artiste afro-pop, et il nous l'a confié tour à tour. Je crois que vous les aimerez encore . OHEMA Produit par Mixtadimz.
 Vous pouvez suivre Keene Roti: @iamkeeneroti 
Téléchargez, écoutez, profitez et partagez!
Download, Listen, Enjoy & Share!
DOWNLOAD AUDIO MP3 HERE (Télécharger la Musique ici)
ADVERTS (PUBLICITÉ)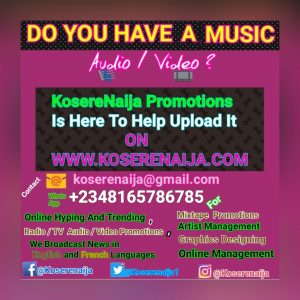 –––––––––––––––––––-––––—
Call / Whatsapp +2348165786785 / +22547759672 for your best music promotions and business adverts on koserenaija.com @koserenaija. You can also scroll down the bottom to follow us on social medi. 
Appelez / Whatsapp +2348165786785 / +22547759672 pour vos meilleures promotions musicales et annonces commerciales sur koserenaija.com @koserenaija. Vous pouvez également faire défiler vers le bas pour nous suivre sur les médias sociaux.
Posted By :Onyekwelu Charles
Publié par :Onyekwelu Charles