[Nigeria Music ] D One – " Aje " :mp3
Don – D One Entertainment Present its frontline afrobeat sensation musical artiste Olawunmi Adedayo popularly known as D ONE who recently dished out an inspirational song with a lyrics that can lift you up & inspire you for greatness titled : AJE
No doubt D ONE is ready to blow out sweet songs to pass an inspirational message.
Kindly scroll down after our French translations to download 
KOSERENAIJA FRANCAISE
Don – D One Entertainment Présentez Olawunmi Adedayo, son chanteur de musique sensationnelle de première ligne, plus connu sous le pseudonyme de D ONE, qui a récemment interprété une chanson inspirante avec des paroles qui peuvent vous élever et vous inspirer pour la grandeur et intitulée: "AJE".
 Nul doute que D ONE est prêt à publier des chansons douces pour faire passer un message inspirant.
 Téléchargez ci-dessous, profitez-en et partagez
Download Below, Enjoy and Share
DOWNLOAD AUDIO MP3 HERE (Télécharger la Musique ici)
ADVERTS (PUBLICITÉ)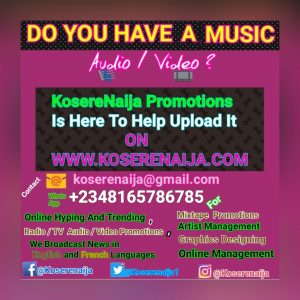 –––––––––––––––––––-––––—
Call / Whatsapp +2348165786785 / +22547759672 for your best music promotions and business adverts on koserenaija.com @koserenaija. You can also scroll down the bottom to follow us on social medi.
Appelez / Whatsapp +2348165786785 / +22547759672 pour vos meilleures promotions musicales et annonces commerciales sur koserenaija.com @koserenaija. Vous pouvez également faire défiler vers le bas pour nous suivre sur les médias sociaux.
Posted By :Onyekwelu Charles
Publié par :Onyekwelu Charles