[Nigeria Music ] Terrible Bleg ( a.k.a Omo Takpa) – "Owo Wa Lori Okun " : Mp3 KosereNaija
CLICK HERE TO JOIN US ON WHATSAPP ( CLIQUEZ ICI POUR NOUS REJOINDRE SUR WHATSAPP )
Terrible Bleg" (a.k.a, Omo Takpa) is here again with another banger titled; "Owo Wa Lori Okun"
Terrible Bleg who is also a professional dancer, Singer and Rapper hails from Bida Niger State. 
Owo Wa Lori Okun , produced by ; "LAHLAH" comes as his last song of the year after his previous single titled KOMOLE.
Kindly scroll down after our French translations to download 
KOSERENAIJA FRANCAIS
Terrible Bleg "(alias Omo Takpa) est de retour avec un autre banger intitulé" Owo Wa Lori Okun "
 Terrible Bleg qui est aussi une danseuse professionnelle, chanteuse et rappeuse originaire de Bida Niger Sate.
 Owo Wa Lori Okun, produit par; "LAHLAH" est sa dernière chanson de l'année après son précédent single intitulé KOMOLE.
Vous pouvez le suivre sur les noms de réseaux sociaux ci-dessous.
You can follow him on social media names below.
Facebook : TERRIBLE BLEG OMO TAKPA 
IG and Twitter @Terrible_Bleg
Listen (Ecoute) 
Vous pouvez maintenant télécharger les mp3 ci-dessous et profiter
Your Can Now Download Mp3 below And Enjoy
DOWNLOAD AUDIO MP3 HERE (Télécharger la Musique ici)
DOWNLOAD WITH iPhone ON AUDIOMACK.
ADVERTS (PUBLICITÉ)
–––––––––––––––––––-––––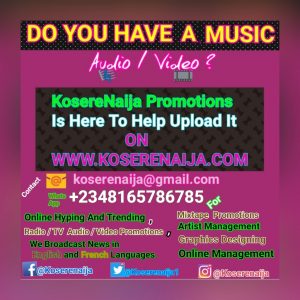 Call / Whatsapp +2348165786785 / +22547759672 for your best music promotions and business adverts on koserenaija.com @koserenaija. You can also scroll down the bottom to follow us on social medi
Appelez / Whatsapp +2348165786785 / +22547759672 pour vos meilleures promotions musicales et annonces commerciales sur koserenaija.com @koserenaija. Vous pouvez également faire défiler vers le bas pour nous suivre sur les médias sociaux.
Posted By :Onyekwelu Charles
Publié par :Onyekwelu Charles