[ MUSIC & VODEO ] Qdot – " Jaiye " : Mp3 / Mp4 KosereNaija
ALSO DOWNLOAD MUSIC: PA J – " TAKA " Mp3
Qdot (Alagbe) kicks off his 2020 music season as he calls on the wealthy and successful people to come out and "Jaiye" with him. 
The singer, Qdot serves us with this brand new single titled " Jaiye " for the new year. 
Jaiye , produced by 2Tboyz is a party banger that will set the street on fire every party and street in few weeks .
Jaiye ' is a Yoruba word that refers to (enjoy life). The singer wants to enjoy his money on earth while he is still alive. Because when you die you can't spend again or take the money to heaven .
Kindly scroll down after our French translations to download mp3 and watch videos. 
KOSERENAIJA FRANCAIS
Qdot (Alagbe) donne le coup d'envoi de sa saison de musique 2020 en appelant les gens riches et prospères à sortir et à "Jaiye" avec lui.
 Le chanteur, Qdot nous sert avec ce tout nouveau single intitulé "Jaiye" pour la nouvelle année.
 Jaiye, produit par 2Tboyz est un banger de fête qui mettra le feu à la rue à chaque fête et rue dans quelques semaines.
 Jaiye 'est un mot yoruba qui fait référence à (profiter de la vie). Le chanteur veut profiter de son argent sur terre alors qu'il est encore en vie. Parce que quand vous mourrez, vous ne pourrez plus dépenser ni emporter l'argent au paradis.
Listen! Download below and Jaiye
 Ecoutez! Téléchargez ci-dessous et Jaiye
DOWNLOAD AUDIO MP3 HERE (Télécharger la Musique ici)
 Regardez également la merveilleuse vidéo de Jaiye ci-dessous
Also watch Jaiye's wonderful video below.
ADVERTS (PUBLICITE) –––––––––––––––––––-––––—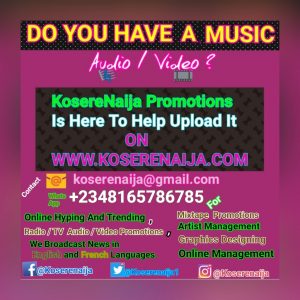 Call / Whatsapp +2348165786785 / +22547759672 for your best music promotions and business adverts on koserenaija.com @koserenaija. You can also scroll down the bottom to follow us on social medi.
Appelez / Whatsapp +2348165786785 / +22547759672 pour vos meilleures promotions musicales et annonces commerciales sur koserenaija.com @koserenaija. Vous pouvez également faire défiler vers le bas pour nous suivre sur les médias sociaux.
Posted By :Onyekwelu Charles
Publié par :Onyekwelu Charles