[Download Mp3 ] Jonassy – Down For You
https://youtu.be/H3MH_mUnuqo
Rising star "Jonassy" whose real name is John Emeka Paul From Abia state, born in Lagos State.
Jonassy Started Music at an early age, played the keyboard in the Church choir.
Jonassy spells love out to you and makes you understand that, when the curtains of hope are down and life is on the verge of breaking you, there is a price love rewards you with……
Live and enjoy, Love is priceless!!!!!.
Kindly scroll down after our French translations to download 
KOSERENAIJA FRANCAIS.
Une future star de la musique "Jonassy" dont le vrai nom est John Emeka Paul est originaire de l'État d'Abia, né dans l'État de Lagos.
 Jonassy a commencé la musique très jeune et a joué du clavier dans la chorale de l'église.
 Jonassy utilise l'amour pour vous et vous fait comprendre que, lorsque les rideaux de l'espoir sont lâchés et que la vie est sur le point de vous briser, il y a un prix que l'amour vous récompense …
 Vivre et profiter, l'amour est inestimable !!!!!.
 Veuillez écouter et télécharger «Down For You» de «JOnassy
Kindly Listen & Download "Down For You" By "JOnassy.
DOWNLOAD AUDIO MP3 HERE (Télécharger la Musique ici)
ADVERTS (PUBLICITÉ)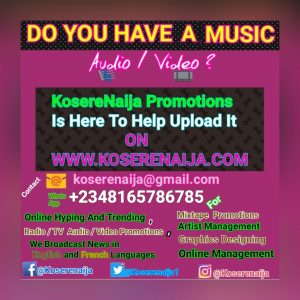 –––––––––––––––––––-––––—
Call / Whatsapp +2348165786785 / +22547759672 for your best music promotions and business adverts on koserenaija.com @koserenaija. You can also scroll down the bottom to follow us on social medi.
Appelez / Whatsapp +2348165786785 / +22547759672 pour vos meilleures promotions musicales et annonces commerciales sur koserenaija.com @koserenaija. Vous pouvez également faire défiler vers le bas pour nous suivre sur les médias sociaux.
Posted By :Onyekwelu Charles
Publié par :Onyekwelu Charles