[ DOWNLOAD MUSIC ] PA J – " TAKA " : MP3 KOSERENAIJA
https://youtu.be/H3MH_mUnuqo
US based Nigerian songwriter/performer and Singer ; "PA J" is fully back with a new single titled; "TAKA " produced by LAHLAH , mixed and mastered by BLACKBEATZ 
PaJ's style encompasses 6 musical genres: Roots reggae, lovers rock reggae, dancehall reggae, reggaeton, highlife and Afrobeats.
 As an immensely gifted songwriter, this infusion allows Pa J to treat is audience to infectious melody over seductive ballads.
Pa J has been a recording artist for over a decade and his first album, PaJ-Unleashed, dropped over a decade ago, is considered a collector's item for those fortunate enough to have copped it. Now he is back with TAKA.
ALSO DOWNLOAD ANOTHER MUSIC : " OCADON GEE – " MONO MONO
Kindly corolla down after our French translations to download  
KOSERENAIJA FRANCAIS
Compositeur / interprète et chanteur nigérian basé aux États-Unis; "PA J" est de retour avec un nouveau single intitulé; "TAKA" produit par LAHLAH, mixé et masterisé par BLACKBEATZ
 Le style de Pa J comprend 6 genres musicaux: le reggae Roots, le reggae amoureux du rock, le reggae dancehall, le reggaeton, la highlife et l'afrobeats.
  En tant qu'auteur-compositeur extrêmement doué, cette infusion permet à Pa J de traiter son public avec une mélodie infectieuse sur des ballades séduisantes.
 Pa J est un artiste d'enregistrement depuis plus d'une décennie et son premier album, PaJ-Unleashed, sorti il ​​y a plus d'une décennie, est considéré comme un objet de collection pour ceux qui ont la chance de l'avoir recopié. Maintenant, il est de retour avec TAKA
Kindly Support The Artist : "PA J" by A Click On Digital Stores Below To Stream #TAKA " Mp3.
https://play.google.com/store/music/album?id=Brsvjplzvtnjjsgn3mkwypzt4vq
http://itunes.apple.com/album/id1490996971?ls=1&app=itunes
https://www.amazon.com/taka-pa-j/s?k=taka+pa+j
https://open.spotify.com/album/5P9ainxOkfsmQAql303DQX
http://itunes.apple.com/album/id/1490996971
FREE DOWNLOA : PA J "TAKA ": MP3 HERE
ADVERTS (PUBLICITÉ)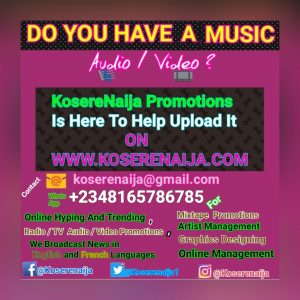 –––––––––––––––––––-––––—
Call / Whatsapp +2348165786785 / +22547759672 for your best music promotions and business adverts on koserenaija.com @koserenaija. You can also scroll down the bottom to follow us on social medi.
Appelez / Whatsapp +2348165786785 / +22547759672 pour vos meilleures promotions musicales et annonces commerciales sur koserenaija.com @koserenaija. Vous pouvez également faire défiler vers le bas pour nous suivre sur les médias sociaux.