GOSPEL MUSIC: Amb. Oyerinde Zion (Zion Praise) – Sama Dupe : Mp3 @KosereNaija
Amb Oyerinde Zion is Nigeria's incredible & great talented Gospel Music Minister, popularly known as ZION PRAISE.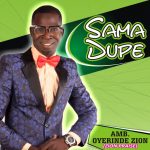 ZION PRAISE releases a brand powerful adoration song, titled: "SAMA DUPE", a song of Immense exhortation unto God expressing all He has been doing in our life, and in any condition all we have to be doing is giving thanks to His Holy name.
Also Click Here (To Download Full Album) 🔥🔥 : PA J – " APPETIZER " :
This powerful song is a song we all need to put for replay each time we want to praise God Almighty in our home, church and in the midst of people for keeping us alive. 
Kindly scroll down after our French translation to download music
KOSERENAIJA FRANCAISE 
Amb Oyerinde Zion est l'incroyable et talentueux ministre de la musique gospel du Nigeria, connu sous le nom de ZION PRAISE.
 ZION PRAISE publie une chanson d'adoration puissante, intitulée: "SAMA DUPE", une chanson d'immense exhortation à Dieu exprimant tout ce qu'il a fait dans notre vie, et dans n'importe quelle condition, tout ce que nous devons faire est de remercier son saint nom 
 Cette chanson puissante est une chanson que nous devons tous répéter chaque fois que nous voulons louer Dieu Tout-Puissant dans notre maison, notre église et au milieu des gens pour nous garder en vie.
 Être prudent; Écouter et télécharger l'audio
Stay safe; Listen & Download Audio