Two Monarchs Abducted by Gunmen In Imo State On Sunday : <<>>> Deux monarques enlevés par des hommes armés dans l'État d'Imo dimanche : KosereNaija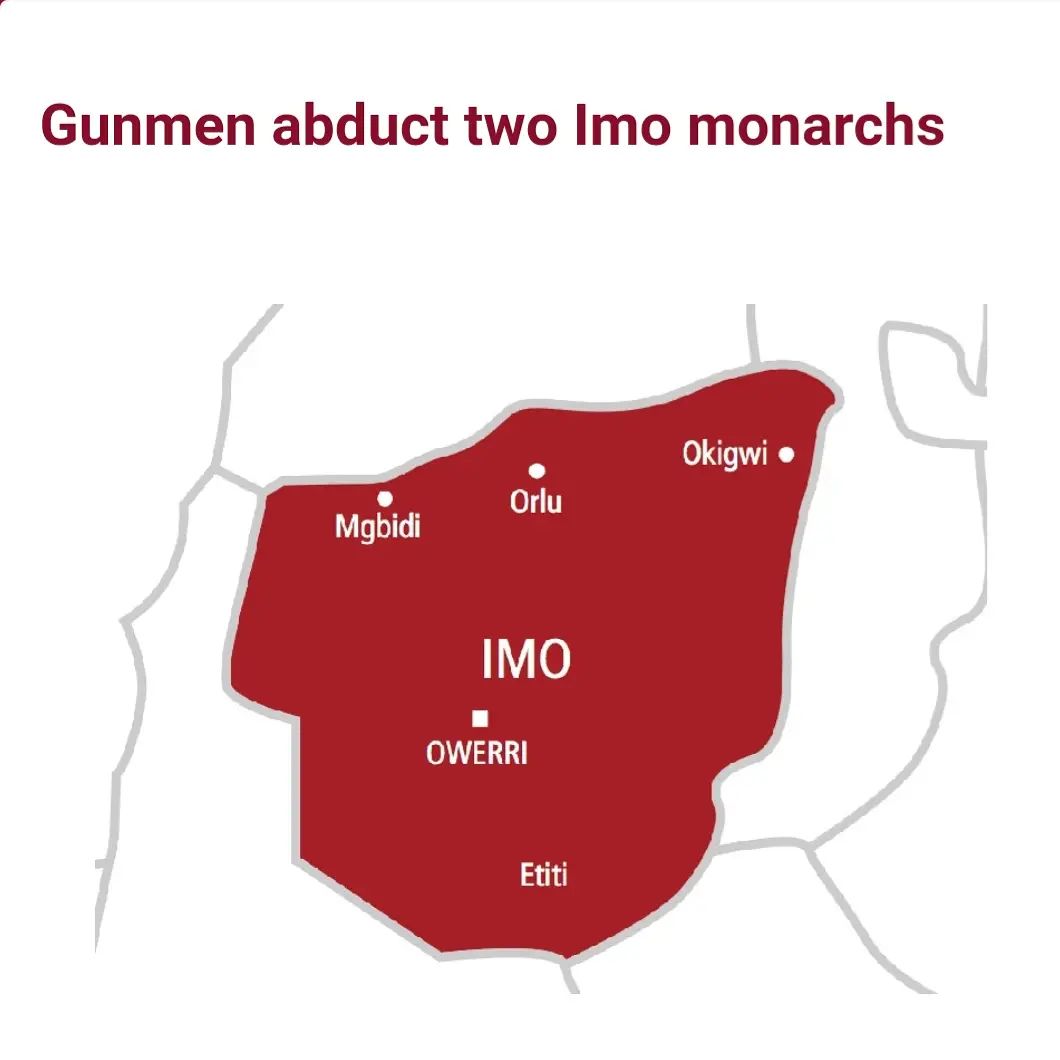 Gunmen have reportedly abducted Acho Ndukwe, the traditional ruler of Amagu Ihube, and Paul Ogbu, traditional ruler of Ihitte Ihube, both in Okigwe LGA of Imo state. 
The gunmen carried out the attack on Sunday December 12 and also set palaces of the two monarchs ablaze. 
The suspects also abducted a youth leader in Umulolo Okigwe area of the state and vandalized the country home of one Fabian Nwosu, said to be a community leader. 
A resident of the area told TheCable;
"It was something else in the early hours of Sunday. They came in Hilux vehicles and kidnapped the two monarchs and burnt their palaces and vehicles.
"They also kidnapped the youth leader of Umuololo- Okigwe. They also went to the house of Fabian Nwosu, on meeting his presence, they vandalised his house.
"Eze Ndukwe is an influential king. He is the chairman of the Council of Traditional rulers in Okigwe LGA. He is also the chairman and CEO of Genesis Hotel, Okigwe. Nobody can comprehend this attack. The communities are bewildered. Highly confused."
Imo police spokesperson, Micheal Abbatam confirmed the attack, adding that the command has commenced an investigation into the incident.
Kindly scroll down to see our French translation.
KOSERENAIJA FRANCAISE
Des hommes armés auraient enlevé Acho Ndukwe, le chef traditionnel d'Amagu Ihube, et Paul Ogbu, chef traditionnel d'Ihitte Ihube, tous deux à Okigwe LGA de l'État d'Imo.
 Les hommes armés ont mené l'attaque dimanche 12 décembre et ont également incendié les palais des deux monarques.
 Les suspects ont également enlevé un leader de la jeunesse dans la région d'Umulolo Okigwe dans l'État et ont vandalisé la maison de campagne d'un certain Fabian Nwosu, qui serait un leader communautaire.
 Un résident de la région a déclaré à TheCable;
 « C'était autre chose aux premières heures de dimanche. Ils sont venus dans des véhicules Hilux et ont kidnappé les deux monarques et ont brûlé leurs palais et leurs véhicules.
 « Ils ont également kidnappé le leader de la jeunesse d'Umuololo-Okigwe. Ils se sont également rendus à la maison de Fabian Nwosu, en rencontrant sa présence, ils ont vandalisé sa maison.
 « Eze Ndukwe est un roi influent. Il est le président du Conseil des chefs traditionnels de la LGA d'Okigwe. Il est également président-directeur général de Genesis Hotel, Okigwe. Personne ne peut comprendre cette attaque. Les communautés sont désorientées. Très confus.
 Le porte-parole de la police d'Imo, Micheal Abbatam, a confirmé l'attaque, ajoutant que le commandement avait ouvert une enquête sur l'incident.